Return Management
Stay on top of every return
Quickly process returns and receive them back into inventory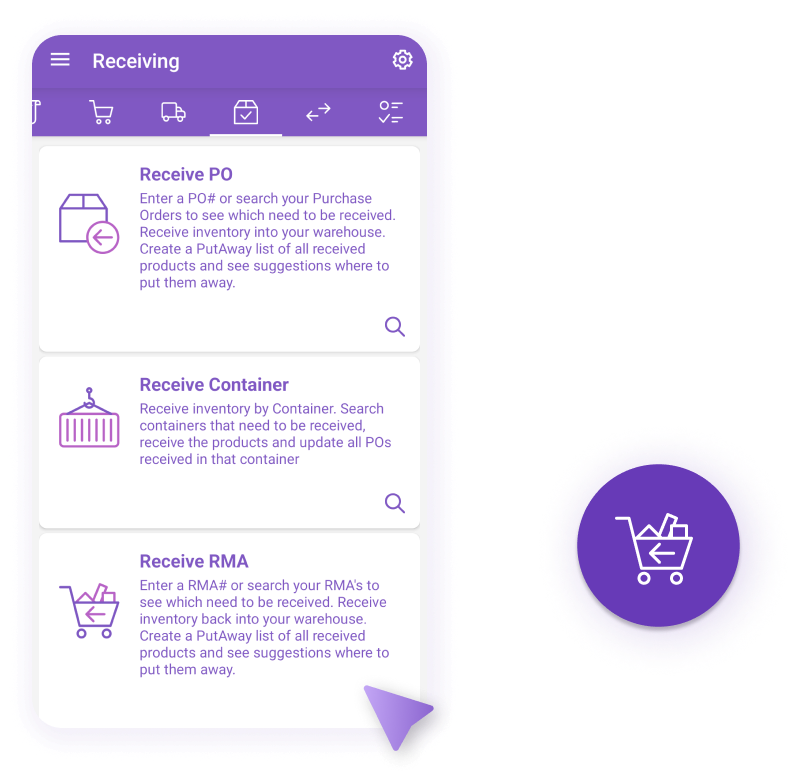 Receive returns back into inventory
To maintain inventory accuracy when receiving returns, Skustack lets you return items directly into their bins or put them into a receiving bin and then move them to their bins later. Simply add the correct quantity and indicate the corresponding receiving bin, or move the items to their proper bins at a later time. 
Return items to their proper location
When receiving returns, it's common practice to temporarily place the items in a receiving bin until someone is available to put them away. To determine the proper storage location for each product once the items are ready for transfer, Skustack can generate a PutAway list with suggested locations.
Transfer returned items to new SKUs
Effortlessly generate new SKU on demand by simply scanning the returned item. With Skustack's seamless inventory transfer feature, you can easily assign the returned product to a newly created SKU. This streamlined process not only allows you to effectively monitor the status of the original product, but also empowers you to sell returned items as used on popular platforms like eBay, unlocking maximum profit potential. 
Transfer returned items to existing SKUs
Effortlessly move inventory between two product SKUs with just a few clicks. Choose the products you want to transfer, select the desired bin location and quantity, and easily complete your transfer.
Transfer items from bin to bin and from SKU to SKU simultaneously
Skustack empowers you to efficiently manage both bin transfers and SKU-to-SKU transfers in a single step while you're in the process of receiving returns back into your inventory. Effortlessly transfer inventory between bins, relocate items from primary to non-primary bins, and transition reserved items awaiting payment to a temporary storage bin, all in a matter of seconds.